History of OKADA AIYON
Early Showa
 Okada Aiyon was founded with the launch of OKADA Rock Drill Co. in 1938 by Tatsuo Okada (pen name was Haku-Un) next to the current National Bunraku Theater. However, after that, as the war intensified, the business closed due to war damage. Eventually, Japan was defeated and after the war was a dark period called the black market era. Amid such confusion, in the latter half of 1945 our company started doing business with nothing more than a bag. We used to travel on bicycles around not only Osaka City but also the Amagasaki and Sakai areas.
 As Japan gradually recovered from the war, package delivery changed from three-wheeled bikes to four-wheel trucks. On the other hand, rock drills at that time were mostly driven by compressed air though there were a few electric types.
 At that time, our customers included TEIKOKU SAKUGANKI SEISAKUSHO (IMPERIAL ROCK DRILL CO.) (currently TEISUKU CORPORATION), Toyo Kogyo (at that time), Nippon Pneumatic Mfg. Co., Ltd. and others, a total of more than 14 companies, and by handling various types of rock drills, breakers, and air compressors, we learned about a wide range of equipment.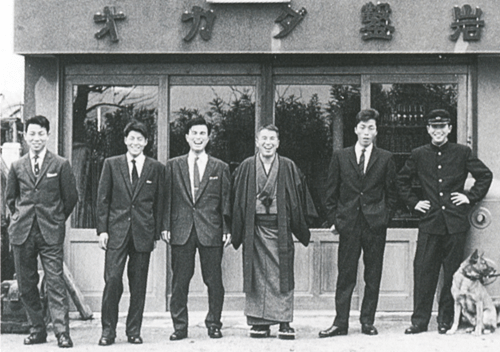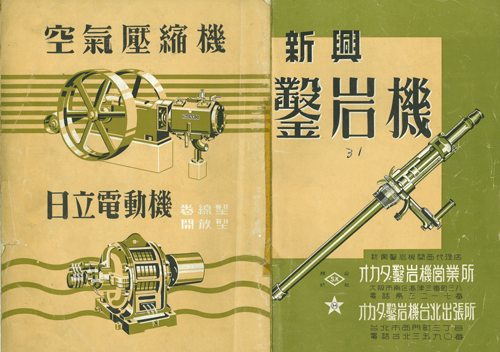 Late Showa
 In the middle Showa period (1955 – 1974), which was a high-growth period, little by little our company built up its strength and transformed itself from a family business to a corporation. Jointly with another company, in 1960 we launched Japan's first large air breaker, the IPH-400, which was nicknamed Aiyon No. 1. In September of the same year, we made a new start as a public company. As we entered the Showa 40's era (1965 – 1974), sales of Aiyon accelerated and in order to respond to diversifying customer needs we developed a series of small to large products, the 200 type, 600 type and 1000 types, and jointly with IMPERIAL ROCK DRILL CO. (currently TEISUKU CORPORATION), we further developed Blue Aiyon (BB), a quiet high performance air breaker.
 An iconic event in Japan's rapid growth was the 1970 World Exposition outside Osaka. Many Okada Aiyon units were used to prepare the exposition site in the Senri Hills. Around this time we imported hydraulic breakers for the first time in Japan. At the time, we never imagined that we would sell American machines in Japan. Even more so, it was inconceivable to us that we would go on to export many hydraulic breakers to the US and other countries.
 That said, the booming Japanese economy turned downward with the oil shock in 1973, and the construction and construction machine industries entered a period of winter-like hardship until an economic recovery in 1986.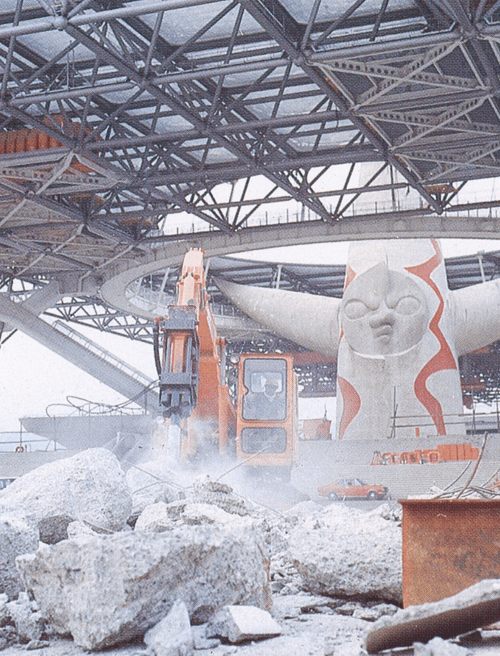 Early Heisei
 As the era changed from the Showa to Heisei, Japan had grown into an economic giant. However, at the same time, Japan's increasing exports created trade friction, and Japan had to change direction to emphasize expanding domestic demand. For that reason, as an emergency response, there was pressure to improve the country's social infrastructure. On the other hand, a multitude of tasks lay ahead for the nation, including enhancement of the international airport, which operates 24/7, the Honshu-Shikoku Bridge, the waterfront in each area, roads, railroads, development of residences, preparation of sewage systems, expansion of public parks and recreation zones and many other projects.
 Against this historical background, we strengthened our branches to deal with the increasing need for our products, and secured excellent human resources, aiming to be a company that is always the first choice. As a result, we were listed on the Second Section of the Osaka Securities Exchange in 1992.
 When the Great Hanshin-Awaji Earthquake occurred in 1995, a wide area of Kinki suffered enormous destruction. Many structures such as buildings, roads, railroads and infrastructure were destroyed, and the use of our products contributed to reconstruction activities.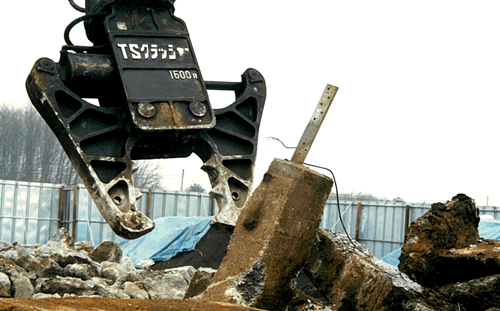 Middle Heisei
 The entire export industry turned around and the domestic economy entered a boom period. As internal LANs and the Internet developed, in this period we made significant progress with our sales management system.
 In the middle Heisei period (1998 – 2007), while continuing to open new branches nationwide to strengthen sales, in 2002 we established AIYON TECH. CO., LTD as a manufacturing base and started selling the TS-W Series, which later became a de facto standard in Japan's demolition wrecking industry.
 Furthermore, in the same year, we established Okada America, Inc., a US subsidiary, to expand our business activity overseas.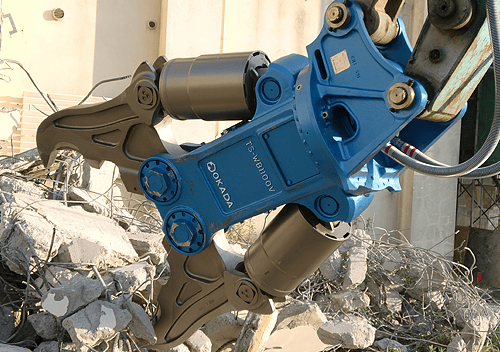 Late Heisei
 In the late Heisei period (2007 – 2017), triggered by the subprime loan crisis in the United States the world economy entered a chaotic era. Our company suffered a significant decrease in sales but we overcame the challenging business environment through such measures as drastic restructuring of the organization and thorough review of and reductions in selling expenses.
 The Great East Japan Earthquake in 2011 caused tremendous damage to the Tohoku region due to the subsequent tsunami. Due to the ability to handle large amounts of earth/sand and driftwood, needless to say our products including wood crushers were used to remove such debris.
  In 2013, the company was listed on the Second Section of the Tokyo Stock Exchange, and at the same time, we set up a parts center in Osaka to provide repair parts across Japan as soon as possible. After 2015, in order to strengthen the metropolitan area where demand is strong because of redevelopment, we set up the Tokyo Office for regional sales and opened the Yokohama Branch as well.
 In March 2016, the company's stock was moved to the First Section of the Tokyo Stock Exchange. Right after that, in April the Kumamoto earthquake occurred and many structures were destroyed, primarily wooden houses. Our products were again used for recovery construction efforts.
 In 2017, Nansei Machine Co. Ltd., Nansei Wintech Co.,Ltd., and Akatsuki Kikou Co., Ltd. became group companies; as a result, our product lineup is significantly expanded and now includes forestry machines, scrap iron machines, and other equipment.